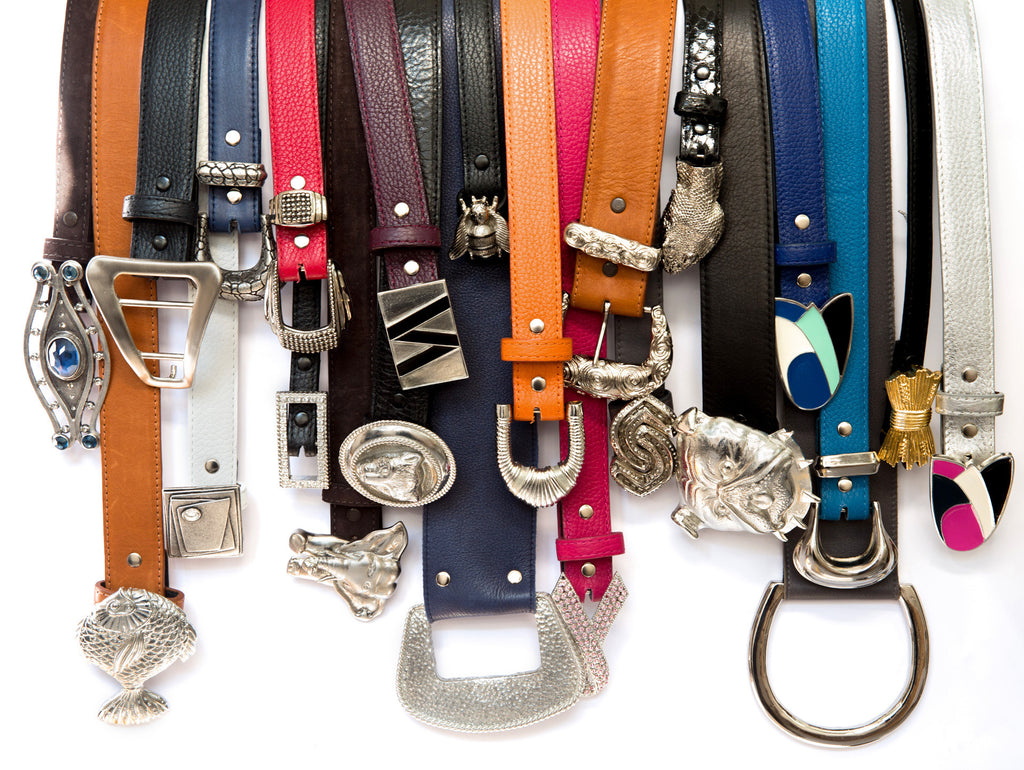 We created this quick guide to simplify the process of buying a women's belt. Here's how to approach every decision:
Belt Width
Our women's belts come in 6 widths -- 0.5", 0.75", 1.0", 1.25", 1.5" and 2+" wrap belts. While the same width belt can be worn with lots of different outfits, we offer suggestions in our Style/Fit notes for each belt. As a general rule of thumb, for jeans stick with any belt in the 1.0"-1.5" range.  For black pants or shorts, anything in the 0.75"-1.25" range is your best bet. For skirts and dresses, really anything goes in terms of width. 
Leather Color
Color is really just a matter of personal preference. Buy what you love and mix and match for different occasions! If you want to get a close up look at all of our leathers, check out our Leather Straps section -- these best represent the colors of all of our belts. 
Leather Texture
Most of our leathers can be dressed up or down with different buckles and outfits. For dressy belts, we love a glossy black leather or our black genuine snakeskin. You also can't go wrong with a black pebbled or smooth leather paired with a shiny buckle. For casual belts, we love the textured pebbled leathers, our smooth leathers, and suedes. 
Leather Grade
With leather we only have one rule -- it must be full grain -- the highest grade of leather which is most durable, beautiful, and expensive. Most department stores and discount stores sell belts made out of much lower grades of leather that fall apart fast. (You never have to worry about this decision at Bello Belts!)
Buckle Style
This is also just a matter of personal preference.  We offer everything from embellished statement buckles that people will comment on from a mile away to simple classics that add a finishing touch to an outfit. And don't forget, all of our buckles and straps are interchangeable so you can take the same strap and wear it as a statement piece and a simple classic by changing the buckle. 
Buckle Color
As a general rule, all dressy buckles can be dressed down, but not all casual buckles can be dressed up. For dressy looks, choose something shiny in silver or gold/brass colors. For casual looks, the shiny silver, brushed silver, and antiqued/oxidized finishes look best. 
Matching (Does my belt need to match my shoes?)
Nope! For more casual and fun looks, we encourage you to mix colors and textures. While this once was a fashion rule, those days are long over. More people are wearing sneakers and casual wear around the clock -- and belts certainly don't need to match sneakers!
Mixing and Matching
All of our belts come with snaps so you can mix and match your straps and buckles. Don't worry, the snaps are hidden by the belt strap when you are wearing the belt! You can buy any individual strap or buckle through our Design Your Own platform.
Sizing
See our comprehensive Size Guide. 
March 20, 2017
Allison Floam